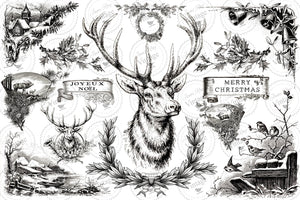 Jamie Ray Vintage Decoupage Paper - Christmas Stag
30" x 20" paper.
Black and White design.
The central is a large stag. Surrounding the stag are other Christmas related designs. These include smaller stage designs, snowy scenes, a church, a wreath, birds, bells and holly. 
Decoupage this design on large pieces of furniture or small projects. 

An instruction sheet will be included with your order. 
I recommend DIY Liquid Patina as a decoupage medium.
" Due to the printing process and the delicacy of the 18 lb paper there may be slight imperfections or variations in color in order to achieve the vibrant detail and colors on tissue paper. "  from Jamie Ray Vintage.