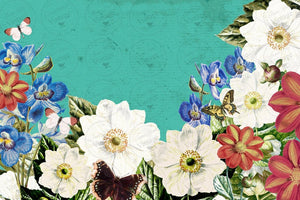 Jamie Ray Vintage Decoupage Paper - Le Printemps
This design is 30" by 20" and is so lovely. 

It features a turquoise background with florals in white, red and blue on the bottom and sides. 

Decoupage this design on large pieces of furniture or small projects. 
An instruction sheet will be included with your order. 
I use DIY Liquid Patina as a decoupage medium.
" Due to the printing process and the delicacy of the 18 lb paper there may be slight imperfections or variations in color in order to achieve the vibrant detail and colors on tissue paper. "  from Jamie Ray Vintage.